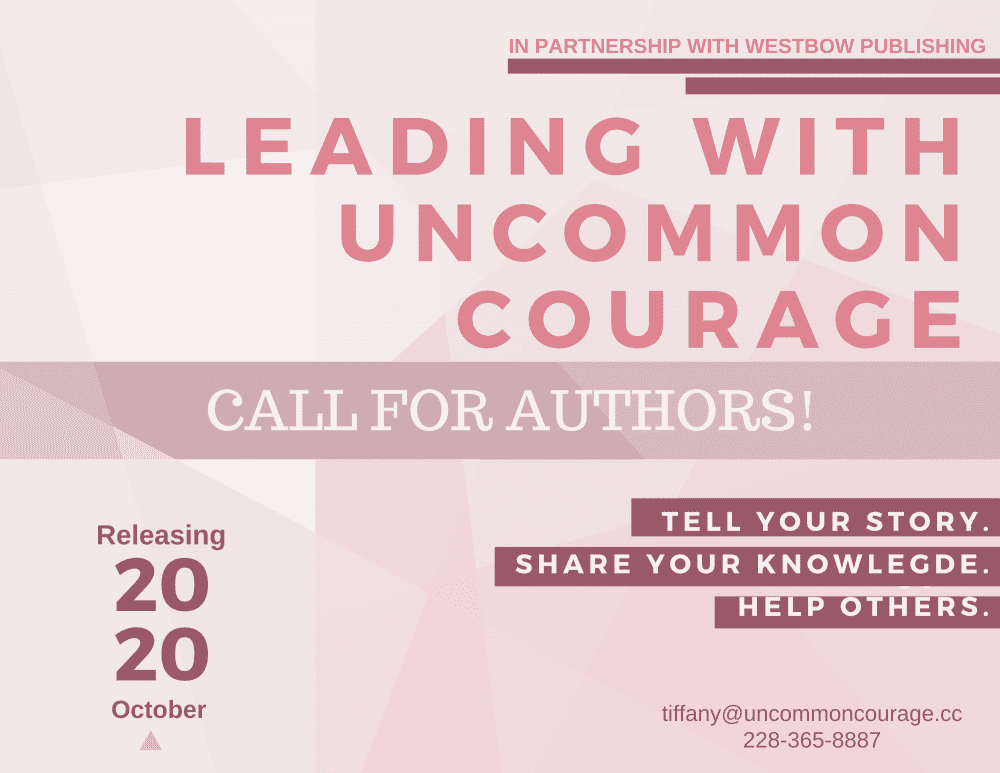 I am so excited to announce that in November 2020, I am releasing an anthology titled "Leading With Uncommon Courage."  It is going to make a huge impact on the hearts and minds of people from all walks of life.  And I want you to join me!  I am looking for people who have a passion to help others.  I believe that together, we can help women, men, and children move past self-limiting mindsets.
Consider sharing your story in order to help others move forward! 
This project is perfect for everyday people that have struggled with everyday problems – divorce, death, bankruptcy, business failure, career change, rejection, anxiety, fear, procrastination, insecurity, addiction … the list goes on! 
Perhaps you are a single parent, an entrepreneur, a recovering addict, a stay at home mom or dad… Your voice needs to be heard.  People are struggling and they need your encouragement. 
I am also extending this invitation to professionals that can equip readers with knowledge. It is important to know how the mind, body, and spirit responds to stress brought on by these difficulties. The emotional strain alone can be paralyzing.
Perhaps you are a life coach, counselor, medical physician, pastor, or a therapist.  This is a great opportunity for you!  As a contributing author, this will further establish you as a leading expert in your field, expand you reach, and of course – change lives! This is your opportunity to become an International Best Selling Author.   
Maybe you are saying, "But, Tiffany, I have never written professionally before!" Do not worry. I have you covered!  We will walk through this together.  My team will train you on crafting your story & your knowledge, marketing, and how to best use the book to further expand your platform and it's effectiveness. 
As a contributing author, expect:
Featured author listing on website
Image insertion of head shot and short bio for your chapter(s)
Promotional materials (bookmarks, post cards, business cards)
Complimentary author copy
Training (crafting your story, marketing, audience development)
Press Release to share with your network
Graphics promoting you as a contributing author to promote on your social media outlets.
E-book and print editions will be made available for worldwide distribution
Wholesale purchase of book for author resale
Whether you are a first time writer or a well-seasoned author, partnering with me on this project will help you gain exposure and increase your credibility. This will further establish you as a thought leader in your perspective field or industry.  For many of you, it will help you to accomplish a life long goal.  This will indeed exceed your expectations. 
[wpforms id="7547" title="false" description="false"]